I wanted to share a guest blog from Jodie of Jodie and Scott from the
Palapa Bar
. Of all the expat business owners I know, these two have shown the most remarkable grit and courage, facing multiple devastating incidents over their years here – each one seeming to be the very worst you could face – but coming back again and again. The grit these two are showing now, and have shown over the years, made me want to share Jodie's story, because so many right now are scared, uncertain, and we don't yet have the luxury of looking back yet on this current crisis….because it is still currently happening. Hearing about the fact that others were in the lowest of low points in the past – yet made it – is the kind of story that needs to be told right now, and I hope it helps everyone who reads it as much as it did us!!!
THANK YOU Jodie and Scott for sharing your story, and for staying put, digging your heels in yet again, and supporting your staff and community!
Living Life Amid Crisis… on an Island in the Caribbean
In May of 2007, we moved here from Florida, USA. We came as a firefighter and ER nurse, to start a new life of owning a small bar and grill. It was just my husband and I running it at the time, until we were able to build a good reputation and grow the business. Little by little, we were able to hire staff, which allowed us to stand on the outside of the bar, visit and get to know all the wonderful guests, from locals to tourists – many now are our life-long friends.
The original Palapa Bar – north of the bridge – courtesy of San Pedro Scoop
We have always lived on the water, but this is an isolated island so dealing with crisis here is very different – especially in dealing with emergencies, utilites, etc.
Since our move here, we have had our share of "hard knocks"  – but we have come through them learning the Belize mentality that it will all work out! Or as one of our sons favorite quotes "It will all buff out".
Our first experience came in the form of Hurricane Dean shortly after moving here. We have always lived on the water, so were very respectful of severe weather and storms; we did our best to prepare. To our amazement, new friends we had just come to know, all showed up and helped us to clear what we could, from the bar, and store it for safe keeping. We even moved a huge freezer to our living room with food in hopes of saving what we had bought! My husband went to the hardware store the day before it hit, to see about a generator, as we had no idea how long we would lose power. It was the last generator left for sale on the island and he practically had to sit on it to secure the purchase! Funny thing was, afterwords, we were looking at it…..it was supposed to be a Honda Diesel generator that he bought. I asked him how do you spell Honda? …….as the generator had……. "HONDDA". Oh well —— good news is, it worked!!
 The night of the storm was very scary, as it was a reality that we were on an island, in the middle of the Caribbean. Not like the states, where you would have help and emergency services readily available. Coconuts were hitting the house and sounded like bomb shells going off, water was coming in through the door. We actually had our dive BC's, snorkel and mask by the front door just in case! About the last radio notification said "pray for us here in Belize" and all went silent including all power to the island. About 5:00am, it was over, and people slowly started coming out of there houses . Trees and palm leaves everywhere. But than we saw our bar ………and she was still standing!! The thatch roof on the bar took some damage, but it withstood other than that. We were without power for a week, which also meant no water. So thank goodness for our trusty "Hondda" generator, that we could power up for coffee, showers, and to keep the freezer closed. The community all stayed together though. We would check on each other every day and have a buffet of food for each other to share.Power was out about a week, which for being out on an island, really was not bad. We were than able to open back up about 3 weeks later, and we were then threatened with another storm. We took all the same exhausting precautions. Good news was, it did not even rain. But we did have a heck of a good hurricane party and celebration with our friends!
Years went on, and our business continued to grow and expand. We learned the ups and downs of the island but always were in awe of its beauty and kind people.
In December 2015,  a series of unfortunate circumstances led us to have to relocate our business into town. Good news was, we bought and no longer were leasing! We did some renovations prior to the move with the help of our staff. Things were a bit different in our new location, but we quickly made our way and continued to grow. On August 3rd, 2016, we were again hit with a hurricane. This one was not to be near as strong as the last, but we still took all precautions, moved out and secured everything we could. We even took our trusty "Hondda" Generator and elevated up off the deck, plugged our freezers in, just in the event we lost power.
New bar in town…..courtesy of tripadvisor images
We stayed at a hotel very close by, just to be able to watch over everything. We went to bed looking over the bar and the big thatch roof, and I remember saying "see you in morning". At about 1:00am, a rouge twister came in through one of the cuts in the reef, and totally picked up the whole bar and pier (which, by the way, had been standing 20 years)….. and washed everything up on the
beach
…… everything was completely destroyed! That moment in time, and the coming weeks, was the worst feeling of devastation and despair. We stood on the beach that morning as the sun rose, and could not even comprehend how to start over.
Palapa Bar after Hurricane Earl
Courtesy of ambergriscaye.com
Courtesy of the San Pedro Sun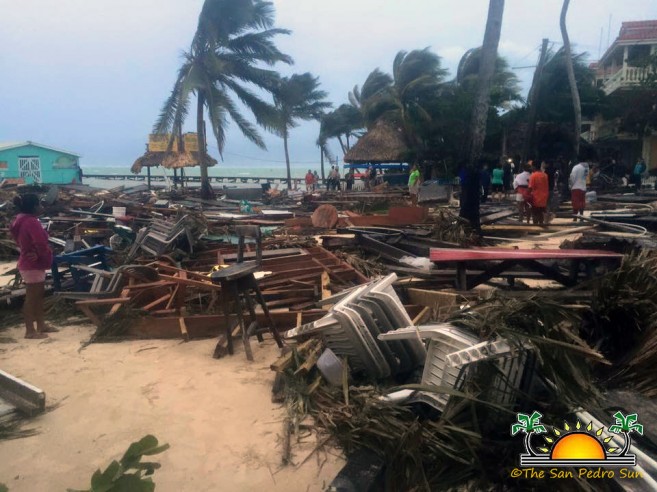 Our staff heard of the news, and one by one, showed up. They immediately asked what we were going to do. Scott and I sat for a bit, shed lot of tears, and than said, we will rebuild and bring her back again. All our 16 staff said, if we were going to rebuild, they would stay with us and help. Again, our friends, and neighboring businesses, all came out to help clean and sort through planks and anything that could be salvaged. Our son even flew in and surprised us with his love, support and help.
So…. bartenders and cooks quickly turned into construction workers, and worked side by side with our contractor. Some businesses even helped out our staff by offering part time work to give them a little break from the construction. We dug deep into what savings we had built to rebuild, purchase all new, equipment and continue to pay our staff. A wonderful number of benefactors even donated to us to help. Something we will never forget, I never had the experience of so many people helping and donating. It was very hard for me to accept, yet so humbling. We were down to our last resources. It took us 144 days, and we opened with a huge show of support from our community and friends.
New Palapa Bar!
Courtesy of tripadvisor images
We are now still in the current crisis state of COVID19 Pandemic.   When it first started here, there were 2 cases on the island, and so to be safe, we closed our bar for 2 weeks. We had no idea what was to come. The government then made the decision to shut everything down, and put the country in lockdown and quarantine. It has been over nine weeks….
They have slowly allowed businesses to reopen, but still with very strict rules and regulations . We have an 8:00pm lockdown, where country-wide, no one is allowed out, everyone has to wear mask, socially distance, and of course practice hygiene. We made mask with smiles on them for each of the staff, so guests know they really are smiling back!
The hardest part for us is, this country and especially our island, depend on our tourists to support our businesses. The boarders to the country remain closed with no actual reopening date. When looking back, this causes so much uncertainty vs the devastation of the hurricane. We could see a light at the end of the tunnel rebuilding. With this, there are so many unknowns. Our whole country is covid-free at this time, but the government is afraid to reopen, as new cases of the virus might emerge. We all are frustrated knowing that life must go on…. and we can't remain in this bubble, and economically survive.
We are all trying to be creative and come up with new promotions to bring in guests, but the hard reality is, there is just not that many people left on the island, and those that are, are watching their pennies right now. So we have no choice but to wait it out …..and do the best we can.  Many businesses have closed their doors until the boarders are reopened, and our tourists can come back. We have kept our staff and have kept them with even partial salaries, to try to help them as they are our family. There basically is no government assistance here for anyone. Palapa Bar, along with many island businesses and the community, are all trying to assist with those unemployed, to ensure they have basic food and necessities.Our good friend and mentor has seen us through all of these experiences and left us with two sayings that our now our mantras…  "what defines us is how well we rise after falling"…. and ….."always be humble and be kind".  We hold out with all our hope that the phoenix (our Palapa Bar and Grill) will rise again, and flourish, as we and all the other businesses on this island have worked so hard, for so many years. We miss everyone. We crave the day where we won't be told to socially distance, wear a mask and we can hug each other again!